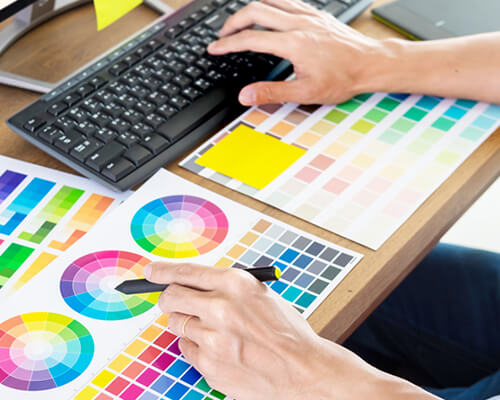 Create an image with smart action
Why use our interactive agency?
We have graphic designers with an artistic sense. We will create your brand identity. Graphic design should support a message that evokes strong emotions with the power of suggestion. We act on the instinctive level of the recipient. Your clients can be hippies, businessmen, or even moms with kids. Our passion is graphic design for business. Regardless of other marketing activities, a high position in the network supports revenue with good graphics. Together we will develop a strategy. By creating a graphic design, we influence the emotions of customers, building our brand. We create symbols that will impose specific marketing goals on the recipients. Our graphics combine fine arts with psychology and technology.
Among other things, we will do it for you:
Stamps, leaflets, business cards.
Shop window design, roll-up, flags.
Banners, logos, graphics, mock-ups.
Presentations, videos, animations.
What is the trend for video content production?
Content on social media without video is of little interest to your audience today. We will work with our team of experienced graphic designers, editors, and editors to create interesting video content. We'll add audio to your video. We will create an animation, and add transition effects and subtitles to make your video interactive. We remove and blur unwanted video fragments so that your videos do not unnecessarily reveal, for example, the secrets of your company. We compress by reducing the size, we convert video clips to any format. For example, WebM ensures good performance on a website. Improve the quality of the compressed material by increasing its resolution when you no longer have the original. We create animations, promotions, and intros for YouTube. Your videos will be attractive and memorable.
Creating vector graphics - logos
We design vector logos. We will improve existing and carry out new projects. The latest trends for logos in your company. We also create icons, favicons, animated gifs, and vector files for display on web pages. For example, animated SVG to bring your business to life. We will also create a PowerPoint presentation and other animations. We design for you any vector in Corel, Adobe, PDF, and any format you need. In our portfolio, we have many projects from various industries, thanks to which we will prove ourselves in your business.
Graphics for the Web
Why should I have a good graphic?
We will make any e-mail template, and graphic design of the site and encode it. We will create banners for your business, e.g. on OLX, Facebook, Instagram, Allegro, and Pinterest. We will design advertising graphics for your company. If possible, we will improve the quality of bad photos or graphics. If your area of operation changes, we will add effects and text to the existing graphic. We make Open Graph images, background images, and charts for Google, Google Ads, and Facebook Cover. We deal with graphic design and processing low-quality photos. Therefore, choose us for your business!
Graphics editing and photo retouching
Retouching photos, removing birthmarks, and unwanted elements in photos. Enhance the quality of compressed photos. Sharpen faces, add effects and develop advanced creative work from photography. If you have an old low-quality company photo, please send it to us and we will help.
Artistic and other design
We have artists on our team, so we can provide professional graphics for your business. We can expand photography to make your art stand out as a work of art. We also create 3D visualizations, digital works of art just for you, and PowerPoint presentations.
Compression of graphics, movies, audio
Compression is used to send materials electronically and over the Internet so that your data is not too large. Convert any format to smaller with us. For example, by speeding up the loading of images or videos on a website.
Can a good video exist without audio?
Production of audio materials
We have sound experts in our team. They can change any audio and clean it, speed it up, cut fragments, raise tones or remove noise from the sound. Fully professional audio processing, click sound removal, voice enhancement to make your recordings sound professional. We deal with sound processing , e.g. improving speech intelligibility, removing the rumbling effect when the sound in the clip is of low quality.
Your problems will be solved by enthusiasts with experience. Below are some of the projects that we have carried out for clients like you. Do you want to trust our team? We have modern and complicated projects on our account, the next one may be yours! Your business with us will jump to a new level. CoolTRONIC.pl, it's much more than you think…
What do our projects look like?
Need software? You've come to the right place, we will write programs in any language, and we will develop and create any software.
Are you looking for marketing services? Help with social media, we will add videos, and photos, create content and marketing strategies, building a brand and image.
WRITING PROGRAMS, PLUGINS
We will write or modify any software.
We will do everything related to your website.
Do you run a stationery store? Open up to the Internet with us.
We will take care of your server, it will be as fast as a rocket.
Want to copy or secure your app? You are in right place, we love this.