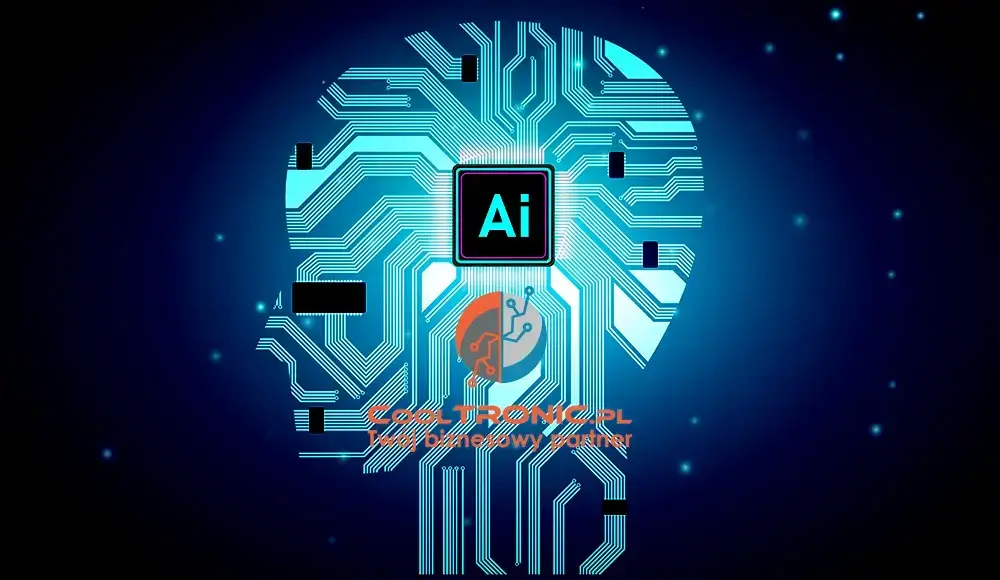 Art & Tech Journey from Blog into AI Company
Table of Contents
Origins of CoolTRONIC.pl: A hybrid of Art and Technology
Back in 2019, CoolTRONIC.pl sprang into existence as a blog with an ambitious goal: to merge artistic creativity with the frontier of tech innovation. The blog's original logo was a tech tree, symbolizing the brand's technology-centric nature. However, the first order the blog received set a new direction for the team. In December 2021, led by the blog's founder, Pawel, the team morphed the blog into a limited liability company. Today's logo, reflecting the Taoist Yin and Yang symbol, epitomizes the company's equilibrium between technology, marketing, and artistic expression. This transformation was realized through the team's unwavering passion and dedication, setting CoolTRONIC.pl as a professional in its domain.

Our Debut Cooperation: First Economic Activity
Our first endeavor, a project that integrated a professional architect's domain with the SharePoint system, served as the springboard for our development. This marked the start of a prosperous partnership leading to a slew of related projects, notably optimizing WordPress websites to reduce costs.
The acquired experience and expertise equipped us to offer effective IT consulting services and enhance the efficiency of website management for our clients. Our collaboration extended beyond just one project, spanning several other initiatives until 2023. Among these, one of the pivotal tasks involved optimizing WordPress websites to reduce costs, which significantly boosted our client's website management efficiency.
Broadening Our Horizons: Diverse Portfolio and Expanded Services
As the leader of CoolTRONIC.pl, had the privilege of steering our team in executing numerous challenging and exciting projects. Some of our notable collaborations include:
Crafting a wide array of advertising materials such as banners, leaflets, posters, and business cards for a wholesaler.
Actively assisting our clients in online marketing by creating engaging and effective ads and presentations on platforms like Facebook, Instagram, and YouTube.
Partnering with an interactive agency, which allowed us to design and optimize websites and online stores for diverse clients and industries.
In response to the escalating needs of our customers, we developed and released plugins for the CraftCMS system that significantly enhance Google Core Vitals parameters and PDF document generation.
Supporting a YouTube channel by creating a specialized website, as well as providing training in SEO, graphics, and video content creation.
Ensuring server maintenance and website creation for an IT company while prioritizing security and top-tier performance.
Offering graphic and photo editing services for a beauty salon, delivering a professional look and retouching any flaws.
All these ventures have enriched our portfolio, enabling us to continually refine our services while prioritizing our client's needs.
Turn on Sound for the Full Experience
Artificial Intelligence: Transforming Our Journey from Blog to Business
Artificial Intelligence (AI) has been a critical catalyst in our transition from a humble blog to a full-scale company. AI has proven to be an invaluable asset in our business operations, benefiting us internally and facilitating our client interactions.
Internally, AI enables us to comprehend and scrutinize our data, empowering us to make informed business decisions. We apply AI for analytics, trend prediction, and pinpointing areas needing our attention. This ability allows us to promptly respond to shifting circumstances and maintain our company's industry-leading position.
For our clients, AI enhances our service delivery. It aids in understanding client needs, customizing our offerings, and providing genuinely personalized solutions. Consequently, we're able to cultivate deeper, more fruitful relationships with our clients, which translates into our collective success.
Artificial Intelligence Harnessed to Propel Our Mission

We are immensely proud of our journey from a blog to a full-fledged company. However, our excitement for the future surpasses this pride. We are convinced that AI will be instrumental in our continuous growth, bolstering our internal operations and enabling us to provide unrivaled service to our clients.

For us, AI is not just a tool for achieving business objectives—it embodies our passion and forms part of our mission. We aspire to stay at the cutting edge of AI innovation and harness its potential to shape a better future for our company, our clients, and the community we belong to. The future brims with possibilities, and we eagerly anticipate sharing our forthcoming accomplishments in this thrilling field.

Photography generated by our AI solution based on NVIDIA CUDA processing

Artificial Intelligence: Shaping Our Collective Future

During our extraordinary transition from a humble blog to a full-fledged enterprise, we've acknowledged the pivotal role artificial intelligence (AI) plays in our operations. It goes beyond being a mere tool—it's an integral asset that empowers us to decipher our data more efficiently and make more enlightened and discerning decisions.

We are certain that AI will be a significant player in our ongoing evolution. We eagerly anticipate what the future brings, embracing the boundless opportunities that advancements in artificial intelligence promise. That's why we're dedicated to staying at the vanguard of AI innovation, not just for our company's benefit, but also for our clients and the community we belong to.

Would we wish to extend our heartfelt thanks to you, our loyal readers and clients, for your unwavering support throughout this journey. Without all of you, we wouldn't have reached where we are today. We are aware that the future will present new hurdles, but we are confident that with our team, our principles, and our commitment to AI advancement, we are well-equipped to tackle these challenges.

In conclusion, we want to stress that our adventure with artificial intelligence in fact is far from concluding. We are wholeheartedly committed to the future and eagerly anticipate our further accomplishments in this captivating domain. We'll meet you on the subsequent page of our narrative, and if you're ready to leverage the benefits of AI-driven intelligent operations, don't hesitate to reach out to us today!
Zmień język – Change language