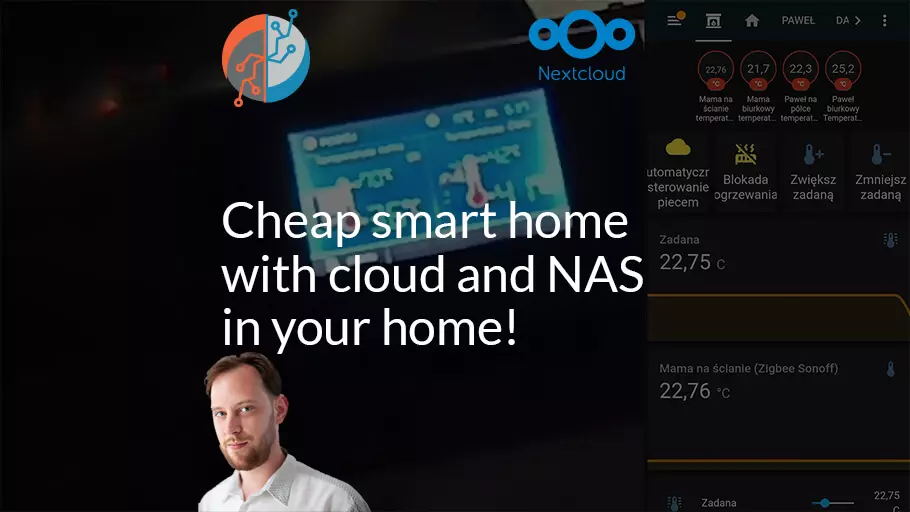 Home Assistant and NAS, LAN cloud – Video
Table of Contents
Is it worth having systems inside your local area network (LAN)?
It's very secure, we have more control, it allows the integration of many standards, and gives great opportunities for expansion in the future. We can control the smart home via the Internet. This gives us a Home Assistant system in our house or office. And it's from the Internet using the iOS or Android mobile app! You will check whether your central heating furnace is currently heating and change the desired heating temperature in the mobile application, e.g. when you go on holiday. You will find the temperature on all thermometers in your home. Also turn off the TV, computer, lighting, air conditioning, and other devices remotely.
This way you can also share all the data from your home NAS, thanks to Openmediavault and the cloud. In addition to your network, the Nextcloud cloud in your home will help, making data available on the Internet even for accounts or entirely public via a link, such as movies, documents, and software files.

What are the risks of having systems on weak hardware publicly on the Internet?
Having public access and domain disclosure, especially for bots, can be problematic. The main solution is to use VPN connectivity to our network, this will make it more difficult for hackers to access. You can also use public DDNS services, e.g. DuckDNS. In case of an attack, cut off access or change the DDNS domain address to another one. Cracking passwords of Home Assistant and Nextcloud systems is difficult, thanks to system security.
In case of problems due to a large number of inquiries from hackers, there will be a DDoS attack on our weak equipment. The equipment should be weaker because it consumes little electricity. DDoS attacks will only cause our systems to freeze. We will then create a subnet with access using VPN technology. On the VPN subnet, you'll be able to access your domain by adding its DNS records on your router.
It will be remote access via the Internet but, we will have to establish an encrypted connection via VPN to the router. Thanks to the mechanisms built into Android or iOS, establish a VPN connection to our router, e.g. Mikrotik or OpenWRT. This requires setting devices for remote access to increase security. For our customers and users, we can make instructions for connecting mobile applications and computers.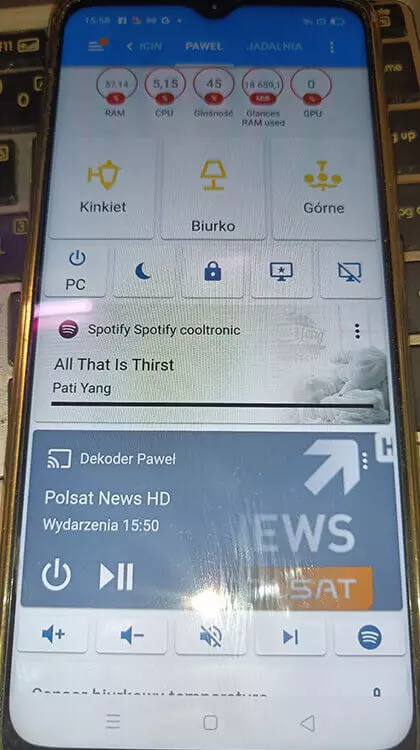 Automate file access via Nextcloud for customers and friends
A great plus is combining access to files between Nextcloud and the system supporting the invoicing and payment system, e.g. via Zapier. This will give us full control over our installation files, training materials, documents, or videos. We will automate access for customers who have purchased a subscription. We will automatically cut off access to resources for customers who have not renewed their subscriptions. We care about the privacy and security of our confidential data. The files are available on our server only to the appropriate group of people. We manage resources more easily from our local network, i.e. from the LAN, thanks to which we do it faster.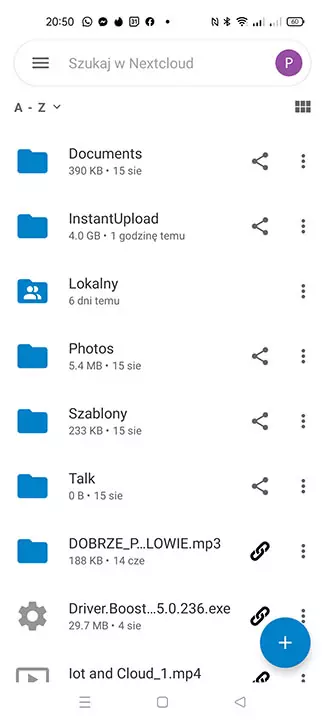 Create private cloud storage to protect your personal information
Your personal information is protected on your own server in your LAN network. You can enable authentication to secure your files. Data can be shared by text password or to accounts with privileges, it can be managed by some external API. Your cloud can sync files with other Linux, Windows, or Android client devices. All of your data is on a local server in your control and that provides maximum security.
How does Nextcloud file sync compare to competitors like Google Photos?
We can also automatically sync videos and photos between the cloud and the phone. This works the same as the Google Photos app, except that the files are synced to the corresponding folder of your choice. And with that, the Google application is not doing very well. Unlike Google Photos, in the Nextcloud application.
For example, skip the synchronization of videos in a given folder, i.e. synchronize only videos or photos in a given folder. This gives us almost infinite space. You can install Nextcloud on the Openmediavault drive. For example, in the case of the NAS and Nextcloud in an example, we have an 8 TB drive. This gives a lot of space for backup data for our mobile devices.
YouTube video showing Home Assistant, Debian with NAS Openmediavault, and Nextcloud cloud in LAN
Watch how a smart home works using the Home Assistant system. At the end of the video, an overview of the NAS with cloud on Windows NTFS disk storage on Openmediavault. We have two virtual machines on Proxmox. The Nextcloud cloud is installed on the Debian machine. This makes our system a secure place to store data. This acts as a cloud on the Internet inside our LAN. Thanks to the machine with Home Assistant, we have remote management of the smart home through a mobile application. All due to the server which is a cheap Dell 7010. The server has already been significantly improved since the original configuration.
Zmień język – Change language